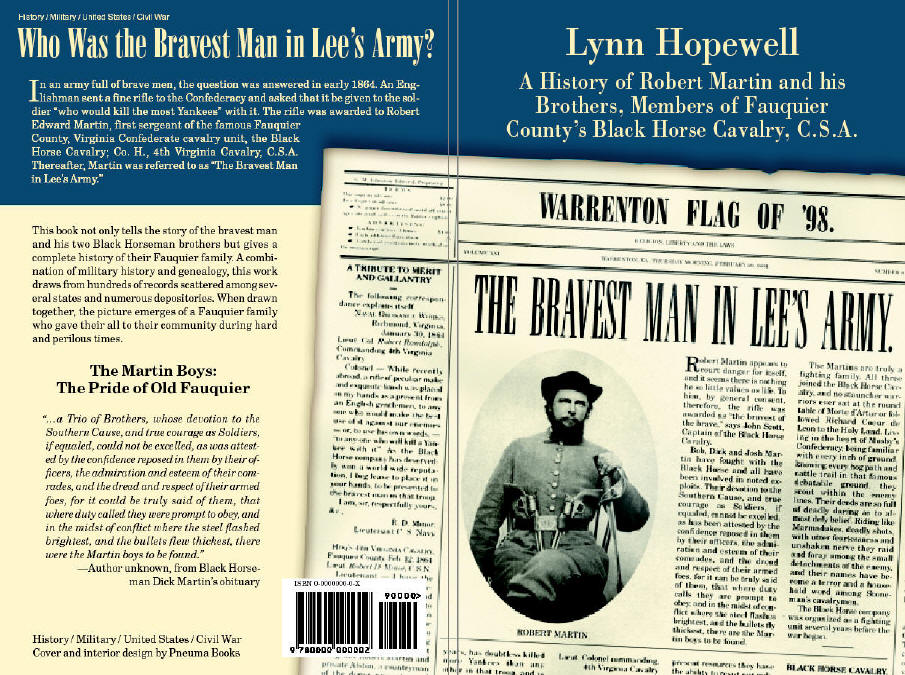 The Bravest Man in Lee's Army
(This book is in preparation.)
I have been researching Fauquier County's Black Horse Cavalry—Company H, Fourth Virginia Cavalry, C. S. A.—for many years. The objective of the work is a comprehensive history of this famous Confederate Cavalry company. My focus is not just on the military history of the unit. Frankly, I find the individual cavalrymen and their families just as interesting. After researching over 220 members of the company, I become very aware that the men came from the best families and that there was a high degree of social and kinship interaction between them. The members of the company knew each other and each other's families.
One family stood out in my studies—the Martins. "Honest" John Martin and his wife Susan Fisher Martin had three sons in the Black Horse and two of their daughters married Black Horse Cavalrymen. Other families also had several sons in the Black Horse—this was quite common. However, this family attracted my attention because the three Martin boys were especially noted for their daring exploits. Even before the War Between the States, the Martin family was prominent in Fauquier County. John Martin descended from an original settler of the Germantown colony of Fauquier, John Joseph Martin.
Attention on the family intensified during the war. Their oldest son Bob was the subject of a remarkable event. He was selected as the "bravest man in Lee's army" and awarded a rifle sent by an Englishman for that purpose. This was an extraordinary honor, and, you would think, would be a well remembered and celebrated part of Fauquier's history. Yet, at the beginning of the 21st century, Bob Martin and his family are all but forgotten. No descendant with the name Martin remains. The graves of the family are overgrown and ignored in a country cemetery.
I have no illusions that this book will have broad appeal, not even to civil war enthusiasts. It will not. It is the most local of local history. My goal is simple. I hope this work will document this noted family and their brave sons—especially the "bravest man in Lee's army"—and help them become a remembered and honored part of Fauquier's heritage.
"The Martin Boys- The Pride of Old Fauquier"
…a Trio of Brothers, whose devotion to the Southern Cause, and true courage as Soldiers, if equaled, could not be excelled, as was attested by the confidence reposed in them by their officers, the admiration and esteem of their comrades, and the dread and respect of their armed foes, for it could be truly said of them, that where duty called they were prompt to obey, and in the midst of conflict where the steel flashed brightest, and the bullets flew thickest, there were the Martin boys to be found.
Author unknown, from Dick Martin's obituary
Bob Martin
He appeared to court danger for itself, and it seemed there was nothing he so little valued as life. To him, by general consent, therefore, the rifle was awarded as "the bravest of the brave."
John Scott, first Captain of the Black Horse Cavalry
Dick Martin
Dick Martin ...was second to none in the Black Horse for courage and nerve. It was he who had the proud distinction of being chosen by Jackson at Harper's Ferry to carry to the Lee the tidings of its surrender. It was he whom Lee chose to bear his dispatches to Jackson, urging him to effect a junction at Sharpsburg….
Alexander Hunter, member of the Black Horse Cavalry and author,
Johnny Reb and Billy Yank
Josh Martin
I have seen him in the advance dismounted, his eyes blazing with the flame of battle, and his voice rising above the rattling fire of carbines, cheering his comrades on; and I have seen him stop, and with a pitying tenderness give his canteen to a wounded enemy lying in his path….
Alexander Hunter